Obesity is not only a public health threat now but is set to become the leading cause of preventable cancer in women by 2035.
That is the latest finding from studies conducted by Cancer Research UK.
They also state that women are more likely to suffer obesity related cancers than men.
Scary.
So, what are you going to do with that information?
Being far too overweight is bad enough in itself. We get sluggish. We feel bad.Our self esteem plummets. Our body starts to get aches and pains as it suffers under the excess weight. It's a dreadful cycle of increasing inactivity and ill-health as weight increases. For most people, that's enough to get into action and take control and focus on reducing and losing weight to feel better.
Of greater concern this a new finding that obesity is set to overtake smoking as the leading cause of cancer, especially in women.
Cancer is already linked to around 13 or more types of cancer including thyroid, breast, pancreatic and more. But how does being obese contribute to that?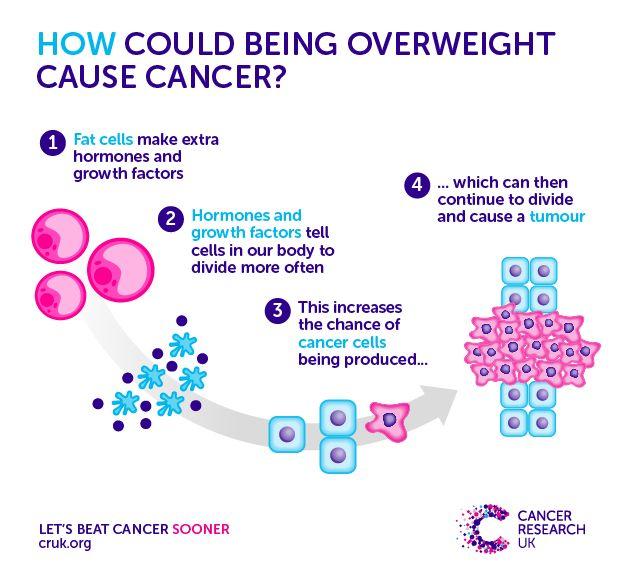 https://www.cancerresearchuk.org/sites/default/files/styles/cruk_wide_resp_breakpoint_one/public/large-161011-how-excess-weight-causes-cancer-blog.jpg?itok=HUKPYX0M
Please understand this: it's not just that obese people GET cancer: being obese CAUSES your risk of getting cancer. Your chances increase exponentially.
If you've ever had the experience of someone around you suffering cancer you know how ugly a disease it is. The prognosis is scary and the treatment regimes are decidedly unpleasant – some decide it's worse than the disease itself. In some cases people recover. In some cases, they don't.
Here's the nub: this is preventable!
Take steps NOW to reduce your weight. You don't need to flip and strain to become thin – just aim to get out of the 'obese' category and you will add years to your life. It is within your hands to do something about your weight and minimise your risk of developing cancer in future.
Decide, for your health, to do something now. Before it's too late.
If you are morbidly obese, speak with your medical professional about the best option for you. Surgical intervention may be a consideration to drop some weight so you can really start to get a handle on changing your long-term behaviours to claw back a healthier life and future. At BEWLT.com we don't condone surgical interventions AS A SOLUTION but as a way to get people into a state of being able to manage their own weight loss. In our experience, even surgical interventions can be short-lived: we advocate taking personal responsibility for changing habits that can lead to sustained and permanent weight loss.
So, are you going to continue to be obese, bemoan your situation and blame your inability to lose weight on a myriad of issues or causes … or will you step up for your own future health and take stock and do what needs to be done?
And yes, before you say "but you don't understand …", this post is from someone who was a lifelong overweighter who was obese for years and lost 30 kgs – so the pain and difficulty is understood. Getting out of 'obese' is, however, doable. Head over to YouTube and find stories of real people who have done what you know you need to do – get inspired, get support and get moving.
You are stronger and more capable than you think.
Here's a couple of inspiring videos for you to get you thinking:
https://youtu.be/Hx9IKBiUPco
https://www.youtube.com/qX9FSZJu448
https://youtu.be/bsam4OKjgxo
If one person has achieved what you want to achieve, it can be done 🙂
Are you obese?
Check you BMI against the scale –
| BMI | Classification |
| --- | --- |
| Less than 18.5 | Underweight |
| 18.5–24.9 | Healthy weight range |
| 25–29.9 | Overweight |
| 30 and over | Obese |
Work out your BMI
Please share ..